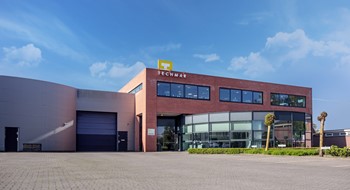 Press release on the acquisition of Techmar
Hengelo, July 2, 2020
Techmar takes the next step in ambition to grow with Dei Capital's participation
Techmar, manufacturer and supplier of 12-volt outdoor lighting, is taking the next step in its growth with a majority-participation from Dei Capital. Founder Roy Middelbos will step down as director and owner after the accession of Dei Capital. The day-to-day management of Techmar will remain in the hands of co-owner Gert Nijland.
Nico Niehoff about Techmar: In its almost 20-year history, Techmar has developed and successfully introduced a beautiful range of 12-volt outdoor lighting products into the market. The company has experienced tremendous growth, and we look forward to continue growing together with the Techmar team.
Gert Nijland on Dei Capital: I am proud of what Roy and I have achieved with Techmar. Getting an experienced and knowledgeable investor on board was essential for the next step. I am sure that Dei Capital is the right investor. It will allow us to professionalise our organisation further, innovate even more, and increase our market share. I would like to thank Roy for the incredible, successful years and wish him lots of success with his next endeavours.
Roy Middelbos: After almost 20 years at Techmar, it's time for the next step, and I've made a well-considered decision to resign from our beautiful company. I would like to thank Gert for the intense and successful cooperation; I look back on what we have achieved together with great pride. I wish Gert, Nico and Bas a lot of success with the further expansion of Techmar. I am full of ideas and energy, and I look forward to a bright future.
About Techmar
Techmar has been known for their high-quality 12-volt outdoor lighting and their brands Garden Lights, Lightpro and Ludeco since 2002. Techmar designs, manufactures and supplies luminaires for various applications and markets. The company is based in Hengelo (Overijssel). OEM production takes place in China. Techmar supplies garden centres, hardware stores, (online) wholesalers and distributors in more than 40 countries around the world. Techmar has a showroom at its Hengelo location where they can receive potential customers to present their range and in-store presentations.
About Dei Capital
Dei Capital participates in family businesses that have no succession, or that want to grow further. In 2019, it acquired a majority interest in the Wessels Group. Unlike many Private Equity parties, Dei Capital has no intention of reselling the company. Dei Capital consciously opts for sustainable acquisitions: buy and hold. Dei Capital applies the maxim 'what is good must remain good'.
Back to overview