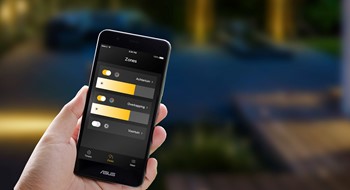 Techmar is, as a Dutch company, known for the continuous innovation of its products. And in a world in which smart is increasingly important, 12 Volt garden lighting can't be left behind. At Techmar, we thought it was time for Smart outdoor lighting.
For the brands Garden Lights and Lightpro we are going to introduce smart in multiple phases. These products are introduced as a separate family: Garden Lights Plus and LightPro NXT. The first phase has been introduced to the market: The Smart Switch. With this Switch, you can make your garden lighting smart and control it with your phone.
In the spring of 2020, Techmar introduces the next development, the smart lamps. These lamps give your garden the mood you want using the app. Having a party? Give each lamp a different colour. A romantic night? Dim the lights to a warm glow. The possibilities are endless.
But the developments do not stop here. Techmar would not be Techmar if we were not already working on it.
Back to overview