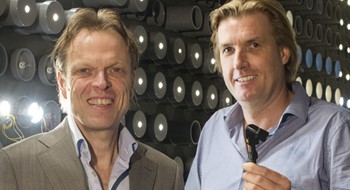 The Hengelo company Techmar has focused on LED exterior lighting since its inception in 2001. It gave the company a head start in a market that had become accustomed to light bulbs.
Who: Roy Middelbos (45) and Gert Nijland (51) What: 12 volt outdoor lightingVan: TechmarOmzet: growth 25% (expected) About: Germany
"The big advantage of LED is that you do not suffer from voltage loss, so the lamps burn just as well everywhere in the garden", says founder and co-owner Roy Middelbos. Techmar designs and develops in-house outdoor lighting systems, which are produced in China.
Ease
"User-friendliness is an important starting point: the consumer must be able to install the lighting quickly and safely without too much hassle - a question of connecting the transformer to a 230 volt contact, the 12 volt cable with fixed connection points in the transformer plugs and the lamps on this connect cable. "
YouTube
Under the brand name GardenLights, the plug and play system is now in place in 35 countries, from France to New Zealand and from Canada to Russia. In the Netherlands, the products can be found in large garden centers and DIY stores. It has taken a lot of effort in recent years to convince the retail trade, says commercial director and co-owner Gert Nijland. "The market is still not fully aware of the possibilities of these 12 volt systems, and the product requires good marketing and information, so we will do more with videos on YouTube." Techmar is growing rapidly and now has 21 employees. Turnover increased by 15 percent last year. A 25 percent increase is expected for 2016.
Gardeners
The new Lightpro connector should give an extra boost to success. The invention was developed for the professional market, mostly gardeners. Thanks to the connector, they can connect 12 volt lights to any desired location. The idea produced an innovation medal in September at the GaLaBau trade fair in Nuremberg. That price works like a crowbar for the German market, which has more than 10,000 gardeners. Techmar has already received hundreds of applications for the product in recent weeks. The number of copies sold now stands at 15,000.
Everything indicates that this number will be tenfold next year, Roy says. "It means that our organization will have to prepare for the next step, for example we need managers, we are entrepreneurs who hate managing, so others will have to take that up later."
Prices
Techmar previously won the Consumer Award 2010, Silver Garden Award 2010 and Reddot Design Award.
PUBLISHED ON: De ondernemer
AUTHOR: MARCO KRIJNSEN | PHOTO: FRANS NIKKELS
DATE: 22 NOVEMBER 2016, 09:01
Back to overview